Posted : 8 years ago on 11 July 2010 06:11 (A review of
Once Upon a Time: A Treasury of Modern Fairy Tales
)
actual story titles--''Prince delightful and the flameless dragon''/Isaac Asimov----''Imaginary friends''/terry brooks----''Gwydion and the dragon''/c.j. cherryh----''Fairy godmother''/lester del Rey/--''Thistledown''/susan dexter----''The old soul''/wayland drew----''Changeling''/barbara hambly----''The tinkling of fairybells''/katherine kurtz-----''The quest of a sensible man''/anne mcCaffrey---- and ''Portrait of a hero''/lawrence watt-evans----this book /a hardcover/ but no jacket -is one of my most treasured possessions. a story i don't have -but want- is'' the poacher'' by ursula k. leGuin

0 comments,
Reply to this entry
Posted : 8 years ago on 11 July 2010 05:20 (A review of
Everything's Gone Green
)
happy-go-lucky slacker, ryan loses his job and his girlfriend in one worst-day-of-his life swoop. new employment at a lottery magazine draws him into a money laundering scheme that produces loot, ladies and lots of opportunities for moral growth. not a waste to watch, but wasn't a box office hit. clever and hilarious 2006 rated R--2-1/2 bones in moviehound... i haven't seen this ,but added for summary value only---

0 comments,
Reply to this entry
Posted : 8 years ago on 10 July 2010 03:15 (A review of
Blackrock
)
i watched blackrock so i wii attempt a review. blackrock, a town in australia was the setting--the young people there surf in the ocean as a daily pastime. heath ledger who has the small role of Toby, could be seen in the ocean on a surfboard in the opening scenes. presently the local teenagers are attending a loud and raucious party near the beach. there is dancing and drinking and much loud talk and laughter. toby can be seen dancing with the others. before long he and a young girl leave the party and head out to the dark beach where there are many large rocks. we see that they start having sex near one of the rocks. soon three other boys appear and immediately intrude on toby and the girl in a shocking scene of gang rape. toby is unable to prevent it but does nothing for the girl when it is over. she is shown getting up off the sand and trying to smooth her clothing. the young man whose party it was had left the party, and was up on the rocks while this whole thing took place. he was so overwhelmed, because these boys were 'his mates' and later said 'a guys mates are all he has'.--the next morning the girl's best friend finds her beaten to death on the beach. okay that is the set up--the rest of the movie shows how everyone reacts. there is much emotional turmoil and screaming and destruction by characters who are too emotionally immature to stop themselves. another plot point involves the mother of the boy whose party it was. she had discovered a malignant lump in her breast, and wasn't able to tell anyone before she went in hospital. the movie is engrossing and i do highly recommend it. don't watch it expecting to see a memorable heath ledger film, but watch it expecting to see a memorable australian film--the end

0 comments,
Reply to this entry
Posted : 8 years ago on 10 July 2010 03:27 (A review of
Impromptu
)
Here depicted as scalawags, parasites and early bohemians, the artists fredric chopin and liszt and their retinue of friends,--- spend much of their time at the homes of financially well off admirers and patrons. they have romances and wives. the film's ace is 'judy davis' in a lusty, dynamic role as mannish- authoress george sand. she is obsessively in love with an incredulous, composer chopin- although he is too pallid because of chronic illness for her attraction to seem credible. - also in love with chopin, his wife- -played by the more feminine- bernadette peters , seeks to hold on to her husband with the children she produces at optimal intervals. a great cast and abundant wit make IMPROMPTU a treat. ---108 minutes-- rated pg-13 --- chopin and liszt are played by hugh grant and julian sands.-----i enjoyed this movie and greatly admire many other films of both judy davis, and hugh grant.

0 comments,
Reply to this entry
Posted : 8 years ago on 10 July 2010 02:19 (A review of
The Stepford Wives (1975)
)
IRA LEVIN /AUTHOR OF THE STEPFORD WIVES 1975 --joanna and walter move from manhattan to ''idyllic''-- stepford connecticut. after joanna and fellow newcomer, bobby notice how all the established wives are ''content''and obedient to their husbands every wish, they decide to investigate-- they discover that the husbands have replaced every wife with an identical,--but perfect clone/android? what to do next--watch the original adaptation of the novel for the answer--rated 3 bones by the moviehound golden movie retriever 2010--

0 comments,
Reply to this entry
Posted : 8 years ago on 9 July 2010 11:53 (A review of
the dreaming
)
addendum---i read the book about 18 years ago-not 25---it in't as old as i thought--sorry--

0 comments,
Reply to this entry
Posted : 8 years ago on 9 July 2010 03:19 (A review of
the dreaming
)
i read the dreaming over 25 years ago--because i think a lot about oz lately-i remembered this book. i looked on the internet and couldn't find any mention of it---finally i found my copy of the book and was then able to locate it on amazon--i don't yet know why ' i ' had to add it to this database. i need to re-read the book to finish my review. be assured --if i remembered it at all after 25 years---it 'is' a good book--if-- you like to read about australia--[in this majestic,untamed land joanna will know hardship and peril---and will blossom magnificently in the sheltering love of the handsome rancher who would build an empire.-- but her search for her heritage will ensnare joanna in the anciient and powerful ''songlines'' of a mysterious aboriginal people--leading her toward a dark and magical destiny foretold in a long ago time called THE DREAMING]---this is from the back of the book---

0 comments,
Reply to this entry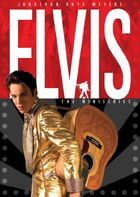 Posted : 8 years ago on 7 July 2010 04:26 (A review of
Elvis: The Mini-Series
)
and Elvis is played by---jonathan rhys meyers/ this mini-series is also listed under jonathan rhys meyers /non-theatrical film entries on his profile page.------- this was--- released originally by starz home entertainment---not rated--173 min.--color

0 comments,
Reply to this entry
Posted : 8 years ago on 2 July 2010 04:11 (A review of
Duet for One
)
''duet for one'' is the amazing story of stephanie anderson, a world famous violinist who suddenly becomes afflicted with crippling multiple sclerosis. julie andrews, as stephanie, is forced to watch helplessly as her ability to perform slips away. her marriage to her composer-conductor husband, played by alan bates, also crumbles when he begins an affair w/ his secretary. - stephanie begins seeing a psychiatrist to work through her bitterness and loneliness, but ignores his advice. she remains on her course of self destruction until finally she must confront the demon - despair -and conquer it or die trying---julie andrews is able to use her remarkable talent to its fullest in this portrait of a woman who is challenged to the depths of her soul by her affliction. i admire julie andrews very much and if you too, are a fan, this is a movie you should see.

0 comments,
Reply to this entry
Posted : 8 years ago on 2 July 2010 03:38 (A review of
Dream Lover
)
''dream lover'' features kristy mcnichol as kathy gardner,- a talented musician pursuing a career in n.y.- she has recurring nightmares of her childhood -filled with terror beyond imagining. -she seeks the aid of a dream researcher played by ben masters.- together they attempt to end her nightmares with a daring experiment,- but an oversight causes kathy to act out her terrifying nightmare where she must defend herself against a brutal assault.--i enjoyed all of kristy's performances--- but she gave up acting in 2001. if you enjoy thrillers 'dream lover' should be one to watch.

0 comments,
Reply to this entry